MTAC ParaPara Battle VII

March 29 ~ 31, 2013
Nashville Convention Center and Renaissance Nashville Hotel -- Nashville, TN, USA
www.MTAC.net
* There is no deadline to register in advance for this event, but it is encouraged!
* Participants will compete individually. You may not compete as a group or a team.
* For information on our other panels and events, visit our events page and follow us on Twitter.
* To see the results of past ParaPara Battles, click here.
*~ ParaPara Battle Overview ~*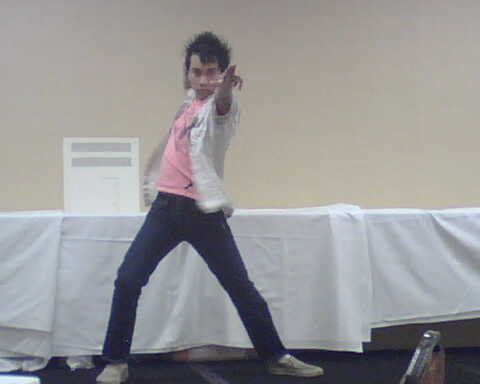 It's our seventh year hosting this epic event, and we're continuing the re-designed format from 2012 -- but with a few adjustments here and there. In the past, it's been all about who was best-prepared in advance -- but now, it's much more than that -- much more fun, that is.
We have removed the "judging" aspect of our previous ParaPara Battles and replaced it with a points-based "game show" format, eliminating the need for a panel of judges. We've specifically re-structured the event so that you don't have to be an expert to compete. Use your wits, eurobeat enthusiasm, and ParaPara prowess to rise to the top of our most epic ParaPara Battle ever!!

Eliminations are a thing of the past! -- In battles before, we've wittled down paralists round-by-round, based solely on dance performance and execution. That's no longer a worry! This year's battle will allow ALL who participate to continue on to the very end! We want the Para Battle to be a fun experience, not a total bummer. However, due to potentially limited time, the number of participants will be limited to 10.
Awesome prizes: Even for the audience! -- We've pulled all the stops yet again to make sure that everyone who attends gets something out of this year's contest -- even if you just show up to watch! Participate in an Audience Participation Challenge for the chance to win all sorts of prizes -- from music albums to sweet swag, anyone can win cool prizes!
Throughout the course of the ParaPara Battle there will be several "AP Challenges" offered only to the members of the audience. Even if you aren't a ParaPara guru, these opportunities will allow everyone to get in on the action for the chance to win para-tastic stuff!
Of course, to win more than one prize, you've got to be a ParaPara Battle contestant, as audience members may only get a prize from an AP challenge once.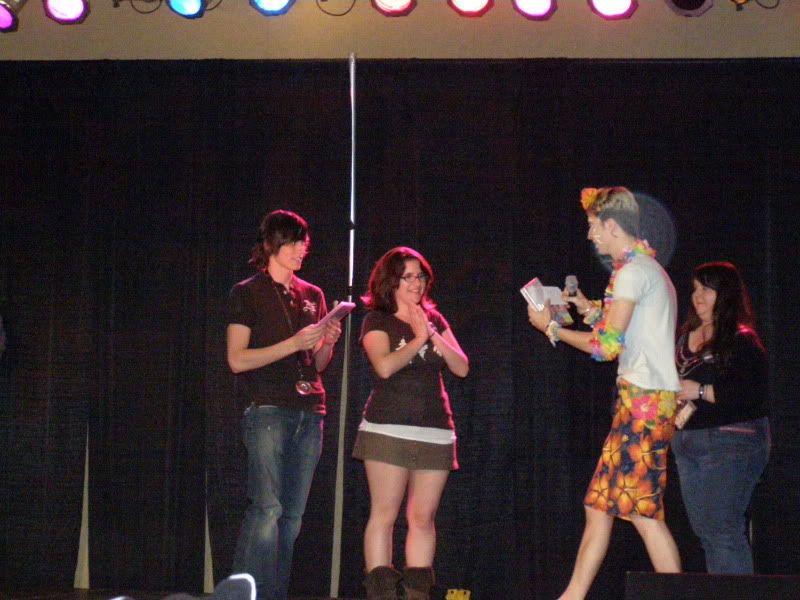 Tricks of the Trade -- Those participating in the ParaPara Battle will have access to some fun gimmicks that will surely spice up the game. Be clever and outwit your opponents! Will you choose to use them to give you an edge, or are you going to save them for the final stage?
The ParaPara Battle features the ParaPass and ParaStar. Each one has different effects, depending on the current round.
Each participant will be given one ParaPass at the start of each stage (but not each round). ParaPasses carry over from round to round and from stage to stage, but will count against you at the end of each stage if gone unused. ParaPasses are best used to save you from losing points or public humiliation.
In Stage One, the ParaPass can be used to avoid having to provide an answer and score points, regardless. In Stage Two, the ParaPass can be used to call a mulligan and select a different set of songs, instead. The original set drawn will not be re-drawable in the same turn. Don't know many dances? With enough ParaPasses, you can guarantee that you'll get the chance to perform a particular routine.
Each participant will be given one ParaStar at the start of each stage (but not each round). ParaStars carry over from round to round and from stage to stage, but will count against you at the end of each stage if gone unused. ParaStars typically grant you the ability to show up the competition and bite back at those who think they're safe!
In Stage One, the ParaStar can be used to block someone's use of a ParaPass, forcing them to provide an answer, anyway. In Stage Two, the ParaStar may be used to block an opponent's challenge and force them to pick someone else. You may not be challenged again for the duration of that participant's turn, but may be challenged again during your next opponent's turn. Note that everyone can use a ParaStar in a single turn, effectively forcing them to perform the routine they chose, anyway! Ouch.
Also be sure to keep in mind...
* You must forfeit a ParaPass or ParaStar when you use it. Think of them as "consumable" items.
* You will lose 50 points for each ParaPass and 100 points for each ParaStar in your possession at the end of each stage. There are more opportunities to earn them during the ParaPara Pop Quiz than any other round, but holding onto them until Stage Two will cost you a lot of points. Doing so, however, could easily turn the tables in your favor in the very last moments of the ParaPara Battle!

*~ Stage One (Preliminaries): ParaPara Party!! ~*

ROUND 1: ParaPara Pop Quiz
What competition would be complete without trivia? This year, it's in "Jeopardy" style!

Answer the questions correctly to score points, many of which are multiple-choice; getting certain questions correct will also provide to an extra ParaPass or ParaStar. Answering incorrectly will not deduct points from your score.

Each of the five categories offer a total of 150 points, and the final question is worth 250, for a total of 1000 points possible to earn in this round.

ROUND 2: Misheard Lyrics
The music genres that define with ParaPara dancing, eurobeat and hyper techno, are notorious for having incomprehensible lyrics! Can you decipher them?

Provide the correct missing lyric in order to score points -- and the most difficult ones might also award a ParaPass or ParaStar when answered correctly. Providing an incorrect answer will not deduct points; in fact, amusing answers just might net you some points, regardless.

This round offers a potential 1000 points, for a total of 2000 points possible to earn during the entirety of Stage One.




*~ Stage Two (Finals): ParaPara Potpourri ~*


In the final stage, participants directly challenge each other in an all-out ParaPara Battle to prove who will be the 2013 ParaPara champion!

Each participant will draw the name of a set of 13 ParaPara and/or TechPara dances, and then must select a single routine featured in that particular set. The participant may then choose to Dance It! and perform the routine with minimal mistakes to receive points, or... the participant may Challenge It! ... and force a fellow contestant to perform the selected routine, instead!

In the instance that a participant opts to "Challenge It!", one of two results will occur:
* If the challenged contestant performs the routine with minimal mistakes, the challenger will not receive points and the participant who was challenged will receive a ParaPass, potentially aiding them during their next turn(s), but also potentially counting against them. (-50 Points)
* If the challenged contestant fails to perform the routine well enough (or simply cannot perform it, at all), the challenger will receive points... however, the participant who was challenged will also receive a ParaStar, providing protection from any incoming challenges, but also potentially counting against them. (-100 Points)

Once a routine has been chosen, it may not be selected again by anyone for the duration of the ParaPara Battle. A routine only needs to be performed once-through; more specifically, Intro -> A-Melo -> B-Melo -> Sabi -> Intro.

Each routine has been assigned a random amount of points: either 500, 1000, or 1500. However, participants won't know how much a dance is worth until after it has been attempted.

This continues until each participant has drawn at least twice, meaning each contestant can score up to a total of 3000 points during Stage Two -- unless two special events manage to occur.

One routine from each set is a Super Song, and does not have a set point value. Instead, the person who selected the song may wager any number of their own points -- and will either receive the points wagered or lose that amount. Also, certain popular songs and their dances are Para Anthems. Everyone may participate and earn points, even if they're just attempting to follow along. The audience is encouraged to join in, as well!

Without the lucky selection of a Super Song or Para Anthem, the potential total for both rounds is 5000 points. If either of these events occur, this "perfect score" could be exceeded!

Lists for the song sets will not be provided in advance, in order to not give anyone an advantage.


*~ Prizes To Be Awarded ~*
For the first time in ParaPara Battle history, we ARE going to try to provide trophies! This will depend on donations made by para˛mahou supporters. Along with trophies, prizes will be awarded for first, second, and third place winners, determined by the top three highest scores at the end of the ParaPara Battle. There might be additional prizes awarded, but you will have to wait and see!
In the event of a tie among anyone in first, second, or third places, tie-breaker matches will take place in the form of a sudden death trivia question. Participants will take turns providing answers, but only after the first answer has been provided by someone. The first to provide the correct answer will win the tie-breaker. If the tie-breaker is for first or second place, another tie-breaker will take place, due to someone being "bumped down" to either second or third, potentially stripping someone of their prizes! Ouch.



*~ Contact Info ~*
If you have any questions, suggestions, or disagreements with the ParaPara Battle or its format, feel free to contact us.



*~ How to Participate ~*
We do permit (and encourage) those wishing to participate to do so by simply showing up to the ParaPara Battle events at MTAC, but we ask that you be punctual and must attend BOTH stages in order to be eligible to win prizes.
If you'd like to register in advance, please complete, copy, and paste the following into an email, and send it to mtacparabattle[at]para2mahou.com. Again, there is no deadline to register to compete, however, we ask that you do so in order for us to properly accommodate everyone.
Name:
Nickname:
Email Address:
Cell Number (Optional):
Other Contact Info (Twitter, Facebook, etc.):
ParaPara Experience (In Years):
ParaPara Team, Group, or Circle (If Applicable):
Comments, Suggestions, Anything Else You'd Like to Share:
Have any questions at all? Please let us know!
To see the results of past ParaPara Battles, click here.